Ramniklal S. (London, UK)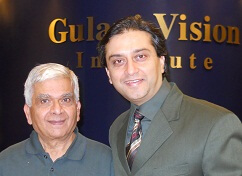 Watching Television was a problem as well as reading small letters.I had advanced cataracts and also had small pupils
I met Dr. Gulani at Swaminarayan Temple where he was providing free eye care and helping the community.
He is in one word Excellent.
I had the choice of having my cataract surgery for free in London but having done my research selected him.
"He is a great surgeon and we are lucky he is here in Jacksonville."
I am glasses free after my cataract surgery with him.
He is very caring and the best eye surgeon.
I shall recommend everyone in Florida and also abroad to travel to him
Ramniklal S.
London, UK