Ralph T. (Alaska)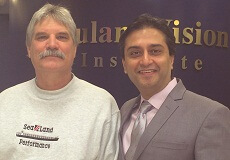 I had an infection in my left eye and had gone to several eye doctors until I found Dr. Gulani who diagnosed the problem right away and helped cure it.
I was referred by my doctor for corneoplastique who says all doctors look up to Dr. Gulani
At GVI, everyone is Very pleasant, everyone here is very efficient and very friendly.
Dr. Gulani is a forward thinker
I have Vastly improved, He saved my vision and my eye. He goes beyond the usual education to patients.
I have referred my coworkers and family to come to him
Ralph T.
Alaska