Pro Golfer Joe F. (New York)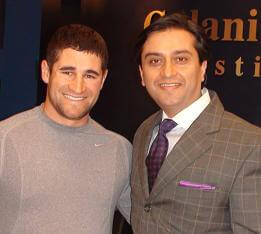 I had pinguecula in my eyes and was bothered by the looks of it.
I did lots of research, and finally decided there is no one I'd love to trust more than Dr. Gulani.
My experience was great! Extremely informative and the care and compassion was unparalleled.
Dr. Gulani is the most professional, caring, talented person I have ever met in the medical field. Hands down!
He performed his "No-Stitch" surgery for my pinguecula and I am feeling optimistic as ever.
All of his skills and bedside manners are 1st class! I am very impressed with all that he did for me.
I shall tell all my friends to come here from New York since they will not experience better care from an ophthalmologist anywhere in the world.
Joe F.
Golf Pro: Tarrytown, New York
---
One year Later:
My vision was perfect heading into the operation with Dr.Gulani for my pinguecula and it still is.
"Being a professional Golfer, I travelled to Dr.Gulani since I knew that most professional Golfers seek his expertise"
My experience at GVI has been 1st class!!! Sincere and diligent care from Dr. Gulani and the entire staff.
"He is THE MAN! His care for your own feeling/perceptions makes you feel like family."
I feel excellent and Pinguecula surgery has been a success. I have returned after one year to see Dr.Gulani and the care and attention is still the same. .
"His skills are unparalleled to anyone in his field. I myself have learned a few keys on personal touch from Dr. Gulani."
I Already HAVE referred my Golf buddies to him!