Patricia M. (Fleming Island, FL)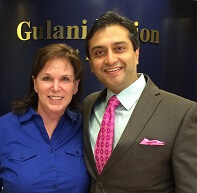 I was blind in my right eye due to LASIK complication with another surgeon and had trouble at work on the computer as well as reading road signs while driving.
I researched vision surgeons for best I could find in the country and found Dr.Gulani had a reputation of fixing other Lasik surgeon's complications
My experience at GVI was pleasing. I felt the knowledge that Dr. Gulani had with technology and the science of eyes gave me hope of better eyesight.
I love Dr. Gulani for caring enough about me to regain my eyesight.
The world is more vivid in colors that I could ever imagine.
Our experience has been Excellent.
Yes absolutely, I would recommend Dr.Gulani to everybody who seeks the best
Patricia M.
Fleming Island, FL