Officer James B. (Missouri)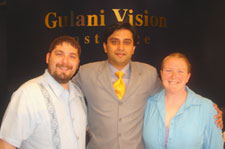 My mother was a patient with Dr.Gulani and his personality made me want to return to him from Iraq for my laser Vision Surgery.
I think Dr.Gulani's skills ,patient care and abilities are very good and will make recommendations to anyone.
I wanted my wife to get the same procedure due to Dr. Gulani's track record and his willingness to teach the patient all aspects of the procedure and request to ask questions. I feel that a recommendation for my wife is important.
She had Advanced Laser Vision surgery the same day as I did with Dr.Gulani.
I reccommend people from around the world to come to GVI.
Officer James B.
Moberley, MO