Nurse Yolanda D. (Nashville, TN)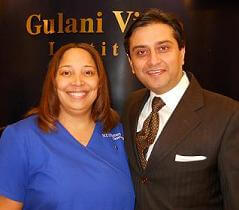 My vision was legally blind. Even the E on the chart was fuzzy. I really don't know how it got there since when I was younger I had super eye sight problems. I was constantly in contacts on. It was emotionally and financially draining.
I already go to Dr. Suparna Gulani as my primary physician. Coming in every time sparked an interest in seeing Dr. Arun Gulani. Then I saw him on TV news and it sealed it for me.
My experience at GVI has been absolutely fantastic. All doctor offices should be modeled after this one with the courtesy of the staff and Dr. Gulani's knowledge, ability and personal touch.
Complete confidence. He is extremely personable. He could perform Laser ASA surgery on my thin corneas and correct my Astigmatism.
There are no real words to describe what this Doctor has done, maybe phenomenal. Definitely should be in the running and win The NOBEL Prize for his innovations.
I shall and already have recommended him to my nursing colleagues.
Nurse Yolanda D.
Nashville, TN