Nurse Melanie O.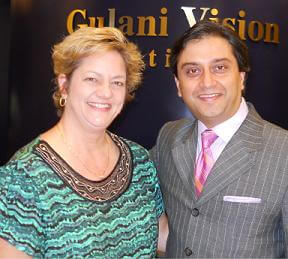 My vision was Awful! I couldn't see to shave my legs! Now I can see everything! AT work I can read Rx's without any use of glasses.
My daughter who is also a nurse did very extensive research and had surgery with Dr. Gulani and sees perfect . She recommended me to travel to him too.
At GVI , the atmosphere is Very welcoming and relaxed. Grateful that I came.
Dr. Gulani is the Dr. that gains your trust and his confidence spreads through his enthusiasm of his success with his patients.
He was able to correct my distance, near and astigmatism and I can see! "As the song states" On vacation I can swim and see where I'm going!
Dr. Gulani wants you to see! He is Very confident and knowledgeable about procedures and is able to explain it so that I can understand!
Education-Very up to date with the latest eye care treatments.
I already have recommended him to physicians and nurses that I work with and trust my opinion.
Nurse Melanie O.
Georgia