Nurse Leia B.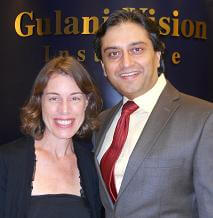 I was so farsighted with high Astigmatism. I had to wear my glasses to do everything, but even when I was still squinting, my vision was terrible! I heard about Dr Gulani on a radio morning talk show. I was impressed with his credentials and enthusiasm.
At GVI everyone is Wonderful! Everyone is very professional. A very gracious staff!
Dr. Gulani knows his stuff! He is so passionate about what he does!
He suggested Clear Lens exchange instead of Lasik and was able to use the new generation lens implants to bring me to 20/20 at distance and near without any glasses.
I am more confident! It is just like Dr Gulani says "vision freedom!
I was very impressed with his education and skills! He is always pushing for the best possible outcome!
I already have referred my friends to him!
Nurse Leia B.
Atlantic Beach, FL