Nurse Brenda C.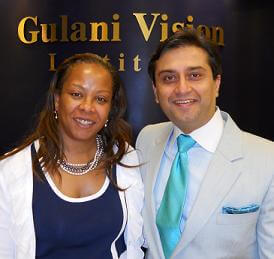 Prior to having my surgery, my vision was very poor due to Keratoconus. Personally, the problems affected my life immensely.
I was referred by my Eye Surgeon from Pennsylvania who knew of Dr. Gulani.
My experience at GVI has been like no other.
The care and personal touch that Dr. Gulani and the staff provided is excellent. Dr. Gulani is a world famous, proficient physician who uses modern advanced techniques.
He performed Laser on my left eye and I feel that the vision in this eye has improved. I look forward to having my right eye done.
Dr. Gulani has been wonderful.
Being in the medical arena made me more comfortable seeing his superlative attention to every detail and drive to actually help me see.
He is patient and uses modern techniques.
Overall, he is great! I will refer anyone anywhere in the U.S. to come to GVI.
Nurse Brenda C.
Pennsylvania
---