Michelle W.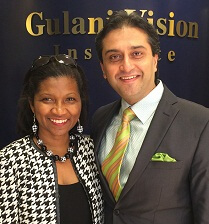 I travel a lot for my work. New/ strange cites without proper vision was a trial that often made me want to cry on a highway. Even with my glasses, I could not see after a few hours every day my vision got worse!
Recommendation from a satisfied patient of Dr.Gulani who worked at Borland Groover Clinic made me come to Dr.Gulani.
Everyone at GVI knows your name. It is so comforting, enlightening and eye opening.

Dr. Gulani in One word; Extraordinary ok maybe more than one Exceptional, Astounding! He took the time to explain in detail, repeatedly what I was going to do, to myself and my family.
Impressed. I am traveling and moving around the country hassle free. No more hoping my vision hold up for a presentation. He performed my cataract surgery despite my Fuchs dystrophy and I am free of glasses
I wish all doctors were as knowledgeable about their craft and as elaborate with their concerns.
Already have and will keep referring.
Michelle W.
Orange Park, Florida