Mary M.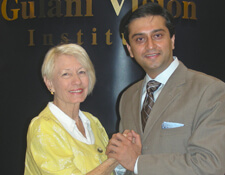 I had an advanced pterygium as well as very dry eyes. There was some blurriness with the feeling that something was pulling on my eye.
I was referred by my cousin Lee Smith in Jacksonville who had had the same surgery done by Dr. Gulani and Highly Recommended that I come all the way from Tampa to Dr. Gulani.
The procedure was performed in such a professional and skilled manner that I felt no anxiety. Nor did I experience any pain.
Dr. Gulani presents himself in a warm, professional manner that assurs the patient that he not only knows what he is doing, but he cares about his patients well-being, as well as enhancing their knowledge of the overall process.
He exudes excellent skill regarding his ability to encourage patients to have a solid education with their unique procedure. The warmth that I felt from staff and Dr. Gulani helped to ease any pre-surgery anxiety. His surgical skill are done in such a manner that I felt no discomfort and surprised to see very little surgical after effects. He has excellent skills.
I already have recommended Dr. Gulani to a relative. Now my relative can see the positive post surgical effects from my surgery that will encourage him to have his surgery done by one of the best.
Mary McClelland
Tampa, Florida
—
7 Years Later
I greatly admire Dr. Gulani for his personal warmth +his wisdom of what he does regarding medical eye problems. Based on prior eye medical problem that he corrected, I am very thankful for the success results from the procedure he performs.
Dr. Gulani is far advanced in his field and he is very assertive in performing advanced knowledge that which he has invented in most cases- tried and true successes.
I have continued to recommend him to those who should place their eye care in knowledgeable hands who goes beyond the way above the standard make that many doctors do.
---