Marnisha G. (Korea)
I had red, blood shot eyes from pingueculas in both eyes
I had researched Dr.Gulani to be the best in the world and my friend from St Croix had also travelled to Dr.Gulani for superlative results of her surgery.
I have been Dr. Gulani on line for 2 years and decided to travel to him from Korea.
My experience at GVI has been Above excellent.
Dr. Gulani is Professional, passionate, educated and sharp.
He performed his "No-Stitch" technique and I am so pleased with my pinguecula surgery.
Our experience with Dr.Gulani has been well above your typical Dr's experience.
I shall recommend patients international, national and especially military counterparts to travel to Dr.Gulani.
Officer Marnisha G.
U.S. Army stationed in Korea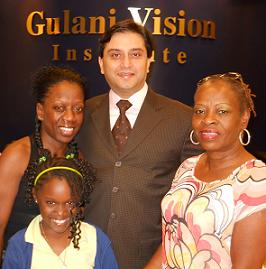 ---