Maria C. (Italy)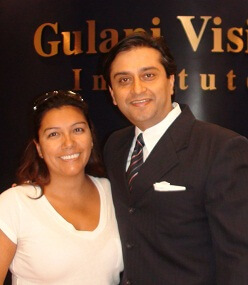 My vision was really bad, could not function without glasses.
Did a lot of research on internet, and decided that Gulani Institute was the only option for me.
Our experience at GVI was Excellent, nothing could have made it better. Great staff and the doctor himself was/is very charismatic and personal.
Dr. Gulani is very competent and personal. It makes a very big difference to know that my doctor has followed my every step in this.
He performed Advanced Laser Vision surgery on my eyes and I am very, very happy. I can already do things that I couldn't do without feeling hindered by my glasses.
I am happy that I went with Dr. Gulani. I feel fortunate that I had the opportunity to be able to have Dr. Gulani as my doctor.
I will absolutely recommend him to my family and friends in Sweden and Italy.
Maria C.
Sicily, Italy