Lauren W. (South Carolina)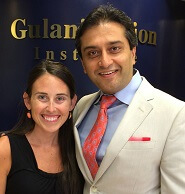 My eye looked Very bad. I had Pterygium surgery at MAYO clinic and had a bad recurrence
I wanted to get it right this time and did my research for the best eye surgeon I could find and found Dr.Gulani. My mother had incidentally had successful pterygium surgery with Dr.Gulani .
I decided to travel to him. He is the best!
My experience at GVI has been Wonderful!
Dr. Gulani is Very helpful/personable and corrected my recurrent pterygium using his "no-Stitch" technique
I feel and look so much better already.
I will refer everyone in my family to him
Lauren W.
South Carolina