Ken D. (St. Augustine)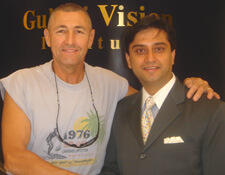 I have had a pterygium in my eye. Also, since I am a marital artist my sight which includes depth perception and peripheral vision are impacted.
My eye doctor in St. Augustine highly recommended Dr.Gulani and his institute as a leader in this type of surgery.
At first nervous but once my first visit was complete I felt much more comfortable. And, it just got better and better. If I had been able to write a script, that would have fallen short of my greatest expectations. Words fail me but to say excellent, excellent!!
Dr. Gulani is very passionate about his profession. Blended with that passion is great knowledge and insight to going beyond the present level of expertise. Dr. Gulani is the best.
I have not had Laser corrective surgery yet but plan to.
Dr. Gulani's surgical skills are beyond description, high, superior, obviously, skill, education and ability cooperate in Dr. Gulani's mind to achieve the total package.
Great results with a personal touch that really allowed me to feel 100% confidence in his ability.
Ken Durling
St. Augustine, Florida