Kathy M.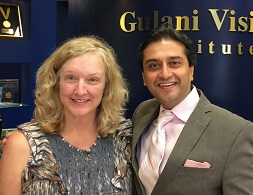 My occupation as a Community and Condominium Manager requires that I work with numbers on a regular basis. I found myself struggling to determine if I was seeing a 6 or an 8. Budget Planning was extremely difficult. Many time I found it necessary to ask a co-worker to read something for me. I enjoy reading the newspaper as well as novels and found that to be difficult as well.
My Ophthalmologist, Dr. Steve Stubbits in Fernandina Beach referred me to Dr. Gulani saying he had helped some of his most difficult patients.
At Gulani Vision Institute, my first very was a very long thorough exam. I have worn glasses since I was very small child and I had never had such a thorough exam. All the staff has been very friendly and professional and has made every effort to make me comfortable.
I love Dr. Gulani's enthusiasm for his work and am glad that he hasn't been afraid to try new things.
I am still adjusting to the fact that I don't have to put on my glasses when I arise in the morning or take them off before going to sleep.
I think every aspect of Dr. Gulani is Excellent.
Looking forward to recommending more people to you.
Kathy M.
Property Management
Yulee, Florida