Kathryn C.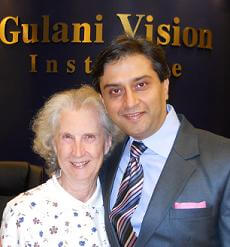 I wore glasses for over 55 years. For the last 2 years I have not been seeing well with the glasses. I play the piano for my church and this has been very frustrating. I had cataracts and Fuchs dystrophy in my eyes.
August 2008, I read an article in the Jacksonville, FL newspaper about Dr. Arun Gulani. Having problems after cataract surgery I decided to consult Dr. Gulani about my options.
Dr. Gulani and his staff have been wonderful. My experience in the office and the results from my surgery have been fantastic.
In addition to being very knowledgeable, and extremely professional, Dr. Gulani is very caring and personable.
Though I am still in the healing stage from my recent surgery, I'm very encouraged about the final outcome.
His surgical skills are excellent. He explains all procedures and answers any questions the patient has concerning all issues. He is very caring and friendly.
I have already recommended him to several people and will continue to do so.
Kathryn C.
Blackshear, Georgia