Julie L.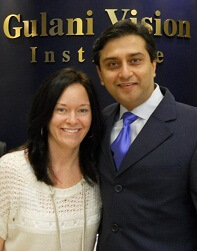 I had dry eyes. My vision was good, but I had burning in my eyes. I heard about Dr. Gulani through the dry eye forum.
My experience at Gulani Vision Institute was excellent. Dr. Gulani is very caring and knowledgeable
I travelled to Florida for Dr.Gulani and he performed the Meibomian Gland Probing procedure and I am so relieved of my symptoms. I feel I can get control over my MGD.
Dr. Gulani is a very caring doctor
He really cares about improving patient's quality of life.
I would definitely recommend others to Dr. Gulani's office and make sure they travel to him from any distance.
Julie L.
Indiana