Juanita G.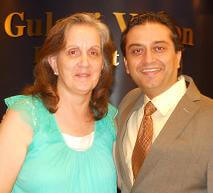 Wore glasses for many years. It was so frustrating to wear glasses and really not to see as clear as you need to. I had cataracts and also Fuchs disease of cornea
My friend, Carolyn Maynard had her Lasik surgery with Dr.Gulani and all her friends who had surgery with Dr. Gulani could not stop talking about him and their vision.
Dr. Gulani performed my cataract surgery in such a delicate way that I can see at all distances without glasses and he was also able to save my cornea from a future corneal transplant.
At GVI, it was very informative and a great experience to get my vision back again without wearing glasses.
Dr. Gulani is an amazing, caring doctor who is genuinely concerned about his patient.
My vision and life improved beyond my expectations.
"Dr. Gulani is awesome. God is guiding his surgeries."
I shall recommend all my friends to him now
Juanita G.
Jacksonville, Fl