Juan M. (Canada)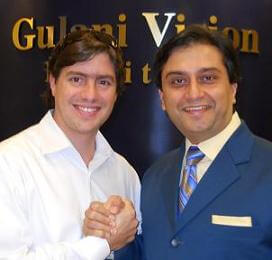 I had a very advanced pterygium which represented a potentially harmful condition with risk of vision loss. My eyes were always red and I had constant irritation, which created a problem for my day to day health and well being.
I did extensive research and worldwide online research. The Gulani Vision Institute website is very thorough and explains the problem and solution very clearly with state of the art technology and expertise.
My experience at GVI has been AMAZING! The staff is very professional and supportive.
Dr. Gulani is a world class surgeon and takes his time to explain and talk to the patient. He takes surgery very seriously and wants to make sure his patients are well informed.
I have a lot of respect for Dr. Gulani. He is excellent at his work and I am very happy that I approached Gulani Vision Institute with my problem. I will definitely recommend patients to consult with Dr. Gulani.
Dr. Gulani and his staff made us feel very supportive through out the process. Dr. Gulani made it his personal responsibility to be present in all stages and particularly the hours and days following the procedure. We felt he was always there for us.
Being a patient from outside the U.S., I had traveled especially to see Dr. Gulani. I would make my recommendation to come to Dr. Gulani to everyone from the world not just U.S.
In Dr. Gulani, you will find an expert surgeon, a caring human being, and a professional who takes his job very seriously. Dr. Gulani has great passion for his work.
Thank you Dr. Gulani!
Juan M.
Canada