Jostein L. (Norway)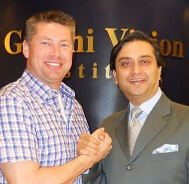 I could not read or do my flying (job) without glasses. I also felt very limited in sports I participated in without glasses. I had previous RK (Radial Keratotomy) surgery and need correction to see again.
Being a Pilot, my vision is very important.
"I did extensive research and reviewed for the best Lasik surgeon I could find. Dr. Gulani stood out as the expert in the field".
At GVI, my experience has been Very good. Everybody that works at GVI are very professional and courteous.
Dr. Gulani is Very professional passionate about his work and patients. He performed his Advanced Laser Vision technique on my one eye and perfected it to 20/20 and then did my second eye and repeated his Miracle.
I am Very satisfied. My vision is 20/20 and I can do everything in life without glasses.
Dr. Gulani is an Excellent surgeon. He took the time personally to answer any questions I had and puts a very personal touch on everything he does.
I have referred my friends and family to him and my mother in Norway will travel to see him
Pilot Jostein L.
Norway & Florida