Joe W.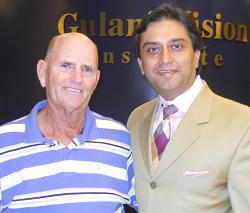 I had a very bad pterygium and my eye doctor at Lange Eye Care in the Villages said I must travel to Dr.Gulani since his results are amazing.
Our experience at GVI have been Excellent, could not be better. I have been treated Professionally & compassionately.
"Dr. Gulani is a brilliant man with a wonderful demeanor. My eye doctor showed off my eye to all his colleagues when I returned to him after Dr.Gulani's "No-Stitch" amniotic surgery."
I am confident I am in good hands.
Dr. Gulani is in one word; Unbelievably. Just fantastic.
I absolutely will have anyone travel to him if they want the best.
Joe W. (Golf Pro)
The Villages, FL