Jim B. (Sharjah, UAE)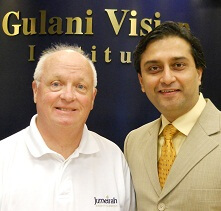 I contracted a severe eye infection while working in Saudi Arabia that caused a corneal scar. Really couldn't see out in right eye when I first saw Dr. Gulani.
I was referred by my family physician Dr. Wesley Mills. Dr. Mills said Dr. Gulani was one of the best eye surgeons in the world and I believe him now.
Every visit at GVI over the past 4 months (during treatment) was as professional, efficient, friendly, knowledgeable and caring as I have ever experienced in a medical practice.
"Dr. Gulani is as professional, caring and friendly. His medical expertise is without question, as good as it gets. I'd came from oversees just to see him."
My vision is vastly improved
In my humble opinion he is invaluable. I'd recommend him to anyone seeking the best eye, anywhere worldwide.
"Being a consultant to Fortune 500 companies worldwide, I would say I have not seen a business run as professionally and meticulously as Dr. Gulani's. Add to that his personal touch."
Why just in the US; Dr. Gulani's skills are unbeatable in the WORLD!
Jim B.
Consultant to Fortune 500 Companies Worldwide
Sharjah, UAE