Jesus V. (New Jersey)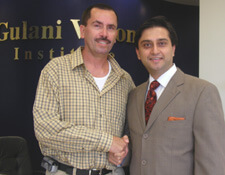 My vision was blurry before pterygium surgery my eye was always red and people had a negative impression of me.
I had previous Pterygium with another surgeon and that was a disaster and I started researching on line until I found Dr. Gulani.
At Gulani Vision Institute it has been the best experience I had in my life.
Dr. Gulani is a great doctor and a great human being, he takes time to listen to you. He performed my surgery using his advanced pterygium surgery with placenta graft and no stitches.
My vision is a lot better now and my eye looks great.
Dr. Gulani's skills are the best, education for the patients is great, he takes his time when he is talking to the patient.
This is true personal touch, to me he is #1.
Jesus V.
New Jersey