Jeffery S.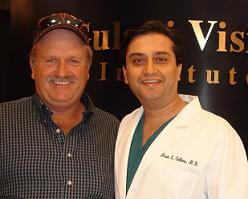 Dr. Gulani removed my large pterygium from my right eye.
My eye doctor told me how lucky I was that one of the world's most renowned eye surgeon lived just a few miles from me.
Dr. Gulani is a Great Doctor
He performed his "No-Stitch" amniotic surgery and not only is my eye looking great but after my surgery my vision improved too.
Dr. Gulani has professional bed side manners, and skills.
I shall let everyone know of Dr. Gulani
Jeffery S.
Green Cove Springs, FL