James R.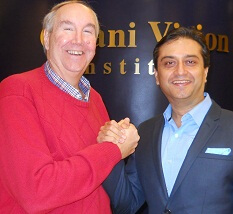 I had extremely poor vision as all distances and wore glasses continuously for 35 years.
I sought the advice of my eye doctor and researched the internet to find the best doctor to find Dr. Gulani.
My experience at Gulani Vision Institute has been was fantastic. Dr. Gulani and his staff were very accommodating with my difficult schedule (in corresponding from abroad), and they ensured that I understood my eye sight.
I underwent Advanced Laser Vision Surgery for my astigmatism and am very happy with Dr. Gulani and his services. My life is much simpler without glasses.
Dr. Gulani's surgical skills and patient care are Excellent!
James R.
Lagos