Jacque B. (Jacksonville, FL)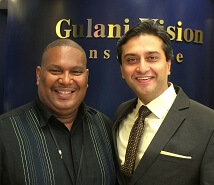 I had a very bad Pterygium in my right eye that was affecting and covering the apple of my eyes.
My acupuncture doctor told me about Dr. Gulani because he worked on her right eye and she said it was like a MIRACLE!
Our experience at GVI has been like no other. No waiting. I was able to see the doctor very fast, and he knows me by my first name.
I called him the MIRACLE doctor and that that is how I talk about him to my friends.
He did his special surgery with no-stitches to remove my pterygium.
Dr. Gulani is Great, like no other. So far he is the best I seen. He loves what he does. He is very passionate and he speaks with me like I am his family and brother.
To anyone around the world. I would not want anyone to be treated by anyone else other than Dr. Gulani. He is the miracle doctor when it comes to eyes.
Jacque B.
Jacksonville, Florida