Jacob J.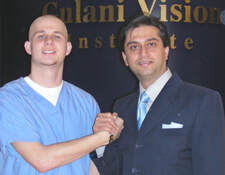 I had very high Astigmatism. I heard about Dr. Gulani thru my eye doctor at Mayo Clinic.
He performed my advanced Laser Vision Surgery.
I feel Blessed and highly favored that God used this man to bless my life, I thank my lord my savior Jesus Christ for him.
Dr. Gulani is undeniably a gifted individual.
I can see twice as good as before and it's even getting better still.
Dr. Gulani is very professional from the moment you step in and it says "Gulani Vision Institute" and the ladies up front and his fancy suits, and his love for what he doing, it's more than a 9 to 5.
– Jacob J.
Jacksonville, Florida