Isabel G.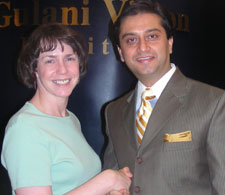 I had noticed a film over my left eye that wouldn't wash away. It would cause my eyesight to be blurry at times. I have worn contacts or glasses since I was 11 years old but this was different. This was a pterygium. I use the computer at work quite often and love to read in my spare time. The pterygium was causing problems with my reading and working on the computer.
My optometrist recommended Dr. Gulani, as he is known as the expert in my problem.
Dr. Gulani and his staff are professional and have made me feel very comfortable. They have answered all my questions, no matter how stupid or silly they might seem. Dr. Gulani also told me how to protect my eyes better.
Dr. Gulani is very professional and caring. After my surgery I was nervous about my bruising. I called him late in the evening and he talked with me and told me to come in the next day so he could check on me.
I no longer have the film over my eye. In fact, my eyesight has improved – I have had my eyeglasses prescription updated twice in the 10 months since my pterygium surgery.
Dr. Gulani spoke with me and my husband immediately prior to my surgery and explained what he would be doing. I was very comfortable and confident with his surgical skills. Everything happened just as he said it would.
Dr. Gulani is an expert in his field. It has been one year since my pterygium surgery and there has been no recurrence. He has followed up frequently. I also have extremely dry eyes from years to wearing contacts. He has also addressed this problem through plugs. I have a pterygium in my right eye although it is not as advanced as it was in my left eye. When needed, I will have Dr. Gulani perform that surgery also.
-Isabel G.
Jacksonville, Florida