Iara V.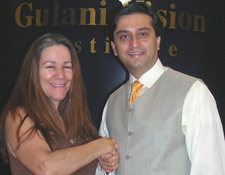 I had pterygium on my eye and I was also very farsighted. My eyes were constantly changing for the worse.
I underwent Dr. Gulani's pterygium technique with amniotic graft and glue and then proceeded with laser Vision surgery to correct my farsightedness.
He is One of the best doctors I've ever met. He is very passionate in his quest to help people see better. He treats everyone like they are the most important patient.
Dr.Gulani is truly the best doctor I have ever met, most professional.
Iara V.
Jacksonville, FL