Hyo L. (Ocala, Fl)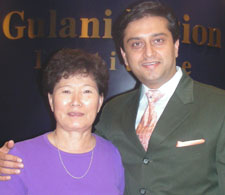 My vision was bad and was affecting my daily life. I had trouble sowing and reading papers, mail and watching television.
My eye surgeon, who is himself nationally renowned, recommended me to come up to Jacksonville to seek Dr. Gulani's expertise.
At GVI, I received excellent care, they have a courteous staff and are very professional.
As for Dr. Gulani, what can I say, he is the Best!
I had a recurrent Pterygium with another eye surgeon and my eye looked very bad. Dr Gulani performed his "No Stitch" amniotic graft surgery and corrected my previous surgeon's surgery to make my eye excellent again. My vision has improved drastically.
Today, over a year after Dr. Gulani's surgery, my eye still looks great. Life is a lot better, not worrying about this problem returning.
Dr. Gulani is a very knowledgeable surgeon. He strives to see that his patients have the very best of care. He truly cares for his patients and takes the time to explain what is going on with the patient's eyes.
I keep talking to many people about Dr. Gulani.
In fact my other eye surgeon asked who did my surgery
and he says that Dr. Gulani did an excellent job. He is
from Ft. Meyers and said he will recommend his patients to Dr. Gulani too.
3 YEARS LATER …
I am writing to express my appreciation for all you have done to give me my wife's eye sight back after the problems she experience with recurrent Pterygium.
Her original problem occurred approximately 40 years ago while we lived in Massachusetts. She had her first Pterygium surgery and had not had any problems until moving to Ft. Myers, Florida back in 2001.
She noticed a growth on the eye and had it checked and was told that the Pterygium was back and that she would need surgery again. They performed the surgery in 2003 and along with the surgery they also suggested radiation therapy to make sure that the Pterygium would not grow back.
After we moved from Ft. Myers to Ocala, she began to experience problems again and was told that the Pterygium had reappeared. She was scheduled for surgery again in 2006 had another surgery. Not long after that surgery she had problems with scar tissue and was told that she would need more surgery to remove the scar tissue.
Her surgeon in Ocala, who himself was renowned eye surgeon said that he had done all he could with his experience and recommended that she contact you because he felt that he could do no more for her eye.
Her vision was getting bad in that eye and was really affecting her daily life.
After he intial visit with you and after you explained the situation and the options available, she agreed to have you perform "No Stitch amniotic graft surgery" You performed this surgery in 2007 and since that time she has not had any problems and there are NO signs of an re-occurrence of the Pterygium.
Her eye doctor in Ocala, who recommended you to her can hardly believe the outcome of your surgery. He always mentions you to other patients and will recommend you to anyone he sees that may need this type of surgery or any surgery that he may not be qualified to perform.
I want to thank you for your kindness and friendship over the past years. You are truly a doctor who shows that you really care about your patients. You and your entire staff at Gulani Vision Institute are the most professional people I have ever encounted in my life.
Thank you again for caring; without you I don't know w hat would of happened to her eye if you did not have the knowledge and expertise to correct her problem..
Thank you
William and Hyo L.
Ocala, Florida