Heather C.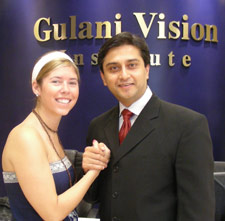 My pterygium had a big impact on my personal life. I was always self conscience and nervous to look at people in the eyes. I was always asked by friend, family, and by friend family, and students what was wrong with my eyes. One student actually told me that she was scared of my eyes.
I did a lot or research online. I found a discussion board to talk with other people dealing with the same issue. There was a girl that explained her experience and said how wonderful Dr. Gulani was.
My experience at GVI has been Wonderful- From the moment I called to make my 1st appointment, the whole staff has been great.
Dr. Gulani is amazing. He takes the time to really explain and make sure that I as a patient understands everything going on. He has taken the time to call me on a holiday and also talks to my local eye doctor weekly to check-up.
I underwent Dr. Gulani's Amniotic membrane graft surgery without any stitches. The eye that has already been operated on looks great. I can't wait to get the other eye done.
He's the first doctor I have been to dealing with this issue that really understands and explains so I can understand , too. He was the 6th doctor I saw in a year for this and the only one who gave me hope that something can be done. And the only doctor who didn't make me cry. All the other ones told me there was nothing they could do and I should just learn to live with it.
-Ms. Heather C.
Orlando, Florida