Harry R. (Texas)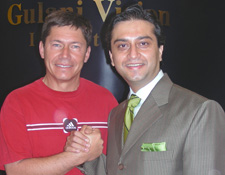 My eye was constantly dry, red and irritated. It caused a slight astigmatism and my eye was tired more easily. Everyone commented that I looked tired due to redness.
I discovered Dr. Gulani through a website and research and someone who posted about his pioneer surgery for this condition. I visited Dr. Gulani and was impressed with his knowledge, the procedures and his bed side manner.
My experience at Gulani vision Institute in Florida was excellent, well cared for and felt completely confident under Dr. Gulani's care.
Dr. Gulani is a masterful surgeon and it really shows that he is passionate about his work.
Three days after surgery and the results are outstanding! My eye is perfectly white, with no signs of the redness or growth.
Dr. Gulani is an exemplary surgeon and goes above and beyond in educating his patients about their condition, surgery, etc. He is a world class visionary in his field. He is extremely personable.
Harry R.
Texas