Genny S. (Colorado)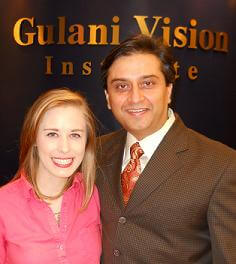 My vision was very poor prior to surgery; I couldn't see the big "E" on the eye chart. I fully depended on glasses/ contacts for my livelihood. Once I developed dry eye syndrome, I could not wear contacts I became very frustrated with the limitation of my vision. I couldn't do anything without them on my face. Even shaving was a task.
I did a lot of research, I watched other patient's videos who were also suffering with dry eye, but who were able to have laser surgery in conjunction with dry eye treatment. I sought many eye surgeons who said I could not be helped and they could not do my Lasik surgery.
My experience at GVI has been Amazing! Dr. Gulani and the staff know my name. Everyone is very personable and relaxed/ optimistic.
Dr. Gulani was the only physician who treated me as a person and not merely another patient. He gave me hope that my DES (Dry Eyes)and high myopia could be treated.
He first performed Meibomian Gland probing to correct my dry eyes and then Advanced Laser ASA to correct my nearsightedness.
Love, Love, Love my vision! I have my life back. I feel more confident than ever and do not feel like I depend on anything (glasses) to see anymore.
Dr.Gulani thinks outside the box. He performed a successful surgery that other doctors told me was impossible. He made sure I understood exactly what my condition was and the benefits and detriments of surgery.
I shall refer everyone to him!
Genevieve S.
Colorado
---