Ethel S. (Michigan)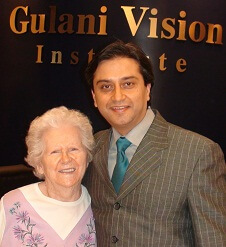 My eye surgeon, Dr. Vassallo asked for me to travel to Dr. Gulani and said this eye surgeon is way ahead of all of us and amazing in his work.
My experience at GVI has been Very good
I really think he is a great doctor. Very nice.
He performed surgery on my eyes for my
corneal scars
using human placenta and I can see and feel great.
Everytime we come in, he knows us by first name and it is just an amazing experience.
He is a great doctor and very loving.
Everyone I know will hear about this great doctor.
Ms. Ethel Slomo
Michigan