Ellen L.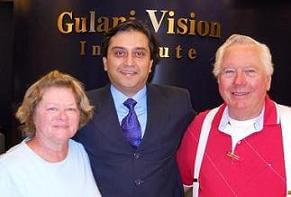 I could not see "close up" with my left eye after previous eye surgery with another surgeon; in order to read books, magazines, newspapers, medicine bottle directions, or price tags I had to wear glasses and a magnifying glass.
My previous eye surgeon had taken out cataracts and put in a lens implant so I would not need glasses. When my vision in the left eye was not 20/20, she used the Laser (Lasik) twice which only made it worse. My physician, upon my enquiring if he knew of a good eye doctor, gave me Dr. Gulani's phone number.
Dr. Gulani and his staff were very professional and sincerely wanted to help me. He worked to correct the problem, and planned what could be done and explained it to me. Also made me realize it would take healing time after each step.
I'm so glad I was referred to him because he had the knowledge and skill to return my eye sight and added to my quality of life.
I have not used glasses or a magnifying glass since my surgery. I love having my vision back in my eye and feel more confident and can read, travel, read maps and menus and everything.
I feel privileged to have met and have the advantages of his surgical skills and knowledge. He made me understand every stage of my "treatment". He was very kind and understanding of my frustration. I'm so grateful to him.
I will certainly recommend him to anyone. As I go about, I hear others doctors speak of his reputation whenever I mention him as my doctor. I feel so fortunate to have found Dr.Gulani
-Ellen L. – Jacksonville, Florida