Dr. Rajesh D.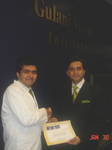 As a practicing eye surgeon I have always believed in comprehensive ophthalmic practice.
One area of my practice has been cornea .Although I have also been formally trained in
LASIK surgery
and I have performed it in my patients quite successfully it has mainly been on "normal" patients requiring cosmetic corrections.
At
Gulani Vision Institute
when I observed the wide spectrum of corneal pathologies successfully rehabilitated and that also with minimal invasive procedures I had an eye opening experience.

Dr Gulani has coined the term "
Corneoplastique
" to emphasize the importance of the cornea and rightly so .
The point is that it is not necessary that all seemingly bad cases have to undergo a keratoplasty .
Now Technically speaking,
The Surgical advances that I observed at Gulani Vision Institute were
–Amniotic membrane transplantation (for recurrent pterygium, conjunctivochalasis ,symblepharon) .At a zero percent recurrence rate the technique of Amniotic membrane transplant is definitely a promising one besides being cosmetically pleasing to the patient . Patients with recurrent pterygia are miserable but after the procedure they were very grateful to Dr Gulani

-Keratoamnioplasty (for band keratopathy-ocular surface reconstruction)

-Lamellar surgeries(Anterior,deep,peripheral,posterior – DSAEK and Epikeratophakia reversal).The DSAEK procedure involving descemets stripping is a very exciting and promising procedure performed at the Gulani Vision Institute
-Synthetic Implants – Corneal ring segments for
Keratoconus
.
Intacs surgery is a short procedure which has no major issues like rejection and the central portion of the cornea remains clear
-Excimer laser contour surgeries for
corneal scars
-(LASIK complications/infection) and for previous Refractive Surgeries.Scars treated with the excimer can bring the greatest joy both to the surgeons and the patients . It is nothing short of a miracle.
-Excimer and advanced surface ablation for previous RK/HK/AK procedures .
I must thank Dr Gulani for allowing me to witness and grasp all the latest advanced procedures that he performs which I believe are the frontier of refractive surgery that all and one should try to achieve .
"I hope my patients hug me the same way when I promise them these alternatives as the patients I have seen hugging Dr Gulani."
Dr Rajesh D MS,DNB,FMRF
University of Mumbai- INDIA