Dr. Radames O.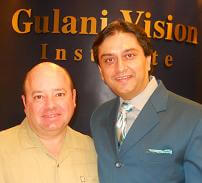 My vision was pretty blurry from cataracts and Fuchs dystrophy. Now, after Dr.Gulani's surgery it's much better. I can see much more clearly now.
I was referred by my eye surgeon and had also heard that most doctors select Dr.Gulani for their own surgery
My experience has been Excellent from the office staff which was very nice and helpful to Dr Gulani himself.
"Dr. Gulani is the epitome of professionalism. Very clear and precise in instructions and his "PLAN"."
I believe his skills are excellent
I Absolutely will refer everyone I know to see him
Dr. Radames O
Jacksonville, FL