Dr. Nishi A.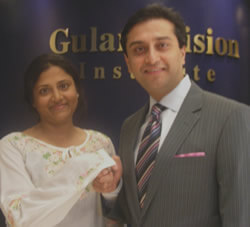 I was having trouble with my daily activities due to my vision. It was interfering with my work.
I heard of Dr. Gulani from one of my patients who is also a friend. She had lasik surgery done with him and sees great. Her mother, sister and now her son too had surgery with Dr. Gulani and they all see so well.
My experience at Gulani Vision Institute has been Very good!
Dr. Gulani is a pleasant guy, good at his job.
My vision is improving and keeps on getting better. I am not having trouble at work.
Dr. Gulani is a great surgeon, staff is attentive, courteous.
Thank you all. You did a good job!
Dr. Nishi Agarwal
Waycross, GA