Dr. Brad VS (Prague)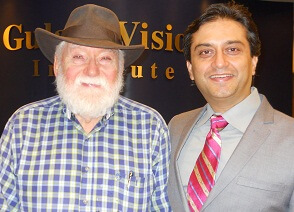 Without my glasses I could see very little of life around me. Now after Dr.Gulani's surgery, my vision is unbelievable!

I had cataracts but also had very high nearsightedness and high astigmatism along with glaucoma and was told my case was very complex.
My daughter is a surgeon and we did our research and I travelled to Dr.Gulani.
At GVI, everyone is Wonderful. Everyone is so friendly & helpful.
Dr. Gulani is a dedicated & passionate human being who is dedicated to his work. He was able to not only perform my complex cataract surgery but also correct all my vision errors and I can now see for the first time in my life without glasses
This is Fantastic.
Dr. Gulani is Super, super, super.
I have and will refer people to fly to him.
Bradley VS, Daughter a Physician
PRAGUE