Don K (Ogden, Utah)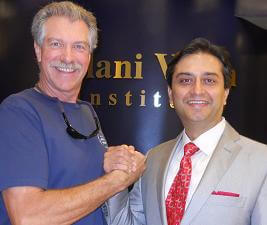 I was not able to read this. I did not feel comfortable to ride my motorcycle because of my previous RK (radial Keratotomy) surgery.
I had done extensive research and also reviewed online and realized Dr. Gulani's passion. I travelled from Utah to Florida to seek his expertise.
Our experience at GVI has been Great! He is a very Caring doctor and staff.
Dr. Gulani's passion is evident in his desire to help people see again.
He performed my difficult lens based surgery through my RK and there is hope for perfect vision.
Dr. Gulani is Amazing! He has a gift he loves to share.
I have and Yes! Absolutely! Will refer everyone from all over to him
Don K
Ogden, Utah