Dianne B.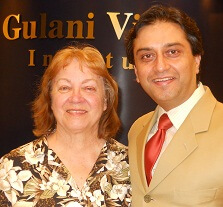 My vision was getting poor like my cataract was back. My left eye looked terrible due to my pterygium and people were looking at me with the discoloration on the eye.
Dr. Ramsey of Lange Eye recommended for me to travel to Dr.Gulani as had seen spectacular results from his surgery. I read the material about the procedure and felt this was the best and only way to get rid of it.
Everyone at GVI is pleasant and helpful and all my questions were always answered.
"Dr. Gulani is highly recommended and pleasant to work with. Very caring ,major credit to his profession. The Best of the Best."
He performed his "No-Stitch" surgery for my Pterygium and, HOORAY! white part of the eye showing again. I'm extremely happy.
His surgical skills are outstanding and the education of the web site and brochures tell all. He has a caring nature and listens to what you have to say.
I absolutely will refer anyone who wants the best of the best to see Dr. Gulani
Dianne B
Rhode Island