Dianne B. (Miami, FL)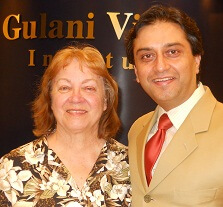 I could not see with my left eye, there was no clarity or detail. I could not drive ay night and had problems with depth perception due to a bad scar.
All eye surgeons I Saw said nothing could be done except a corneal transplant.
My eye doctor in Miami, consulted Dr. Scheffer Tseng and also surgeons at Bascom Palmer Eye Institute, Dr.Tseng reviewed and suggested contacting Dr.Gulani, as he would be a better doctor for what I needed.
Entire staff at GVI is very personable and make a point of greeting everyone by name.
Dr.Gulani is genuinely excited about what he does and how he treats his patients. I feel that he was interested into how he can help me. I never felt rushed or that I was asking too many questions. He took his time to make
Definitely will refer people from any where in the world

Dianne Beinlich
Miami, Florida