Derek B.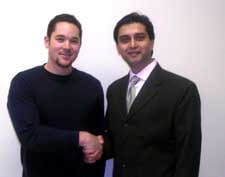 I had an aggressive recurrent pterygium in my right eye. I conducted extensive research on the internet and received second and third opinions from various doctors to determine my treatment options. From my research, I became alerted to the industry leading expertise of Dr. Gulani and his method to remove pterygiums.
This unique procedure removes the entire pterygium and utilizes an amniotic membrane graft. I was eager to meet with Dr. Gulani; however I live in San Diego, CA and would have to travel a good distance to Jacksonville for the procedure.
Throughout my experience with Dr. Gulani and his staff, I was treated professionally and they made sure all my questions were answered. I felt confident I had made the right decision after meeting with Dr. Gulani for the very first time.
With this said, I was most impressed with the personal attention I received. For example, besides regular calls from Dr. Gulani's office to check on my healing process, Dr. Gulani himself came to the hotel where I was staying after the surgery to check on me and to see if I needed anything.
To say the least I was very happy with my experience with Dr. Gulani and his staff.
Thank you again Dr. Gulani, for your time and your help.
-Derek B
California