David G.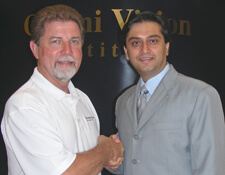 I suffered for years with a pterygium. It was very painful, red and unsightly. I had pterygium surgery with another surgeon many years ago when it required stitches. I have postponed the surgery until now in fear of the after-surgery effects I had when the surgery was done the old way.
My eye doctor who was aware of Dr.Gulani's techniques and results referred me to GVI. At GVI the staff were very professional.
My first impression was the patient comes first.
Dr.Gulani was very easy to talk with and listened to my concerns. He strives to satisfy the patient.
After his surgery, my eye looks perfect, the pain has gone. I am completely satisfied.
I feel like we have been friends for years. He always makes you feel comfortable. I have complete confidence in Dr. Gulani.
I would recommend Dr. Gulani to anyone. He sets the pace in customer satisfaction and backs it up with his knowledge and performance. Thanks Dr. Gulani for restoring my eye to perfect condition.
– David Green Jacksonville, Florida