David C.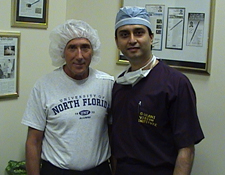 Vision in my left eye was very weak. It was becoming increasingly difficult for my optometrist to correct my vision with glasses. Each year at my annual eye exam the problem of correcting my left eye vision becoming more complex
Referred by Dr. Akel, My optometrist. We together decided that Dr. Gulani was the best doctor available to correct my vision problem. He heard him speak of his new technique with patients with severe
Pterygium
growths and his success with helping restore their vision.
My experience at GVI has been Absolutely fantastic. The staff is very friendly and efficient. I had surgeries in both eyes, I have a great deal of confidence with Dr. Gulani and his staff.
Dr Gulani is a pioneer in his field and has developed "star of the art" techniques for helping patients with sever vision problems like I had. You can tell during every visit that he truly cares for his patients and is excited about what he can do to correct their vision problems.
I had PRK in my left eye to correct my vision problems, my optometrist is very impressed with the results of the surgeries I had in both eyes.
As an educator myself, I appreciate Dr. Gulani's approach with his patients. He thoroughly explains everything he is doing and that is primary goal is to improve vision.
In fact I have already recommended 3 people to consult with Dr. Gulani.
Dr. Gulani is paving the way for his colleagues by teaching them his innovating surgical skills. He is very patient, friendly and enthusiastic for how he is able to help his patients overcome their vision problems- Its enlightening.
He truly loves what he does. He has a passion to share the techniques he had developed with other eye surgeons. He made a video of the surgery in my left eye and played it back to me and Dr. Akel so I could see what he did.
He documents everything he does with pictures so he can show his patients and surgeons he is training the before and after story of what his advanced techniques accomplished.
Dr. Gulani's personal touch is evident during every visit to his office- he is the ultimate professional who is a warm, caring person who is passionate in what he does.
University of North Florida- Jacksonville, Florida