Cosmetologist Myrtle C.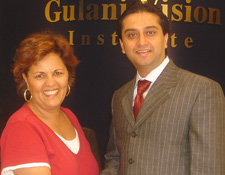 I love to wear contact lenses and my pterygium was so large that my contact lens did not fit any longer. My vision was very impacted. I had to wear glasses which I hated.
My eye doctor spoke very highly of Dr. Gulani, she assured me that he was the best.
Total satisfaction, Dr. Gulani made me feel comfortable about my pending surgery.
He performed his Amniotic graft surgery with Glue (no-stitches) and then followed up with cataract surgery to simulate my Mono-vision.
The way he greats you with that warm professional smile, I knew that I was in for perfection.
I feel revived like I have a new life.
Dr.Gulani is wonderful. His skills outstanding, as far as educating his patients-I know so much now about my eyes, I am now educating friends and family. His personal touch is extremely professional and one feels super secure in his care. His post operation care is amazing. He took the time to call personally.
Myrtle Castriota
Cosmetologist