Casey O. (Macau)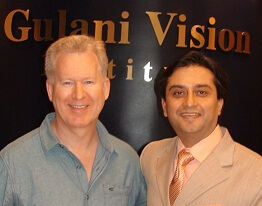 My vision in my right eye was not clear for both close and distance vision. I was using predominantly my left eye.
I was referred from eye surgeons in HongKong at HK eye centre & Singapore Eye center (SWEC) to see
Dr.Gulani for his Vision Corrective Expertise with RK patients.
Being in the Eye care business myself, I did extensive research and asked leading eye surgeons for their recommendations and they all unanimously mentioned Dr.Gulani.
I travelled all the way from HongKong to see Dr.Gulani
At GVI, my experience has been Excellent.  Both staff and Dr. Gulani are very professional & very  helpful.
Dr. Gulani took a lot of time to explain all aspects of the surgery & answer additional questions.
He performed his Advanced Laser ASA surgery on my previous RK surgery and I can see distance and near both without glasses now.

Dr.Gulani's surgical skills are excellent. He took the time to explain all aspects of the surgery. A very warm & open personality.
I shall refer everyone from within and out of USA to travel to him if they want the best.
Casey O
Macau