Bruce J.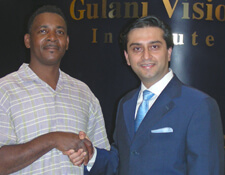 Vision was good but eyes stayed red.
My experience at GVI was Very good. I had advanced Amniotic graft surgery with no stitches (Glue).
Dr. Gulani is Caring and professional. His skills and manners are Great!
—
11 years later, still SPARKLING!
11 years ago, Dr. Gulani performed his magical, "no stitch" PTERYGIUM surgery and brought me to SPARKLING white eyes from day 1 after surgery. Here I am 11 years later, with no recurrence and seeing Dr. Gulani's continued passion in teaching his technique to eye surgeons worldwide.

– Bruce J.
Jacksonville, Florida
---