Barbara M. (Virginia)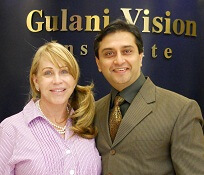 I love to read and because of my poor vision, I got the point where I had stopped. My job required a lot of concentrating. It became hard to finish reports etc.
"I researched many doctors. I came to Dr. Gulani because he had the latest procedures and a great reputation."
Also, I wanted a super-specialist in vision corrective surgery as I had previous laser surgery on my eye.
My experience at Gulani vision institute has been Wonderful. Dr. Gulani is a great doctor. He is very professional/ passion for his work. He was able to perform Advanced Laser Vision surgery on my eyes despite my previous LTK scars and I am seeing great.

The best doctor and staff I have ever had. He is wonderful and I could tell he truly cared about my eyes.
I shall definitely have patients fly only to him.

Barbara M.
Virginia
---